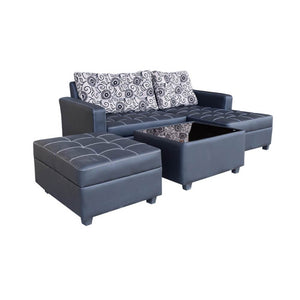 L-shape sofa set with footstool and padded center table 1/4 bronze glass with 3 pieces looseback pillows.

MATERIAL: PVC Leather, 3mm Sofa Spring, Plastic Legs, High Density Foam.
SIZE:  L116/76 X W64 X H71 CM

COLOR: V310 Beige, Gray, Brown & Black
*Price is subject to change without prior notice.
* Prices are subject to change without prior notice * Dimensions provided are approximate and may vary slightly in actual product